Biography
Born Charles Scott Mitchell in New York City, he grew up in farm country north of Detroit.  He thought of becoming a forest ranger like Aldo Leopold.  Instead, he graduated from college with a degree in English and drama. 
After a brief time pursuing but not capturing an acting career in New York, Mitchell was drafted into the US Army, where he learned to drive a tank and use an assortment of weapons.  Then he spent a peaceful year in Korea as a reporter for Stars & Stripes and as a hoofer in musical comedy reviews, entertaining the troops. 
Mitchell returned to Detroit and became a writer for the Great Cities project, a public school experiment bankrolled by the Ford Foundation to develop programs for educating "culturally deprived" children.  A program called Head Start was one.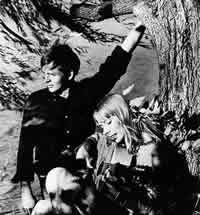 Mitchell started singing in Detroit folk clubs and saloons, and left his writing job in 1965.  In Toronto, on his first out of town gig, he met Canadian songwriter Joni Anderson from Saskatoon, Saskatchewan.  They married, and as a duo Chuck and Joni Mitchell played the coffeehouse circuit and gin rummy until they divorced in 1968.
The folk clubs faded, and Mitchell moved on to college and arts council residencies.  He has lived in Coconut Grove, Florida, Santa Monica, California, and Greeley, Colorado.  In the eighties, he gravitated back to the middle west, and bought a tall brick house built by a riverboat captain in 1879 overlooking the Mississippi River in Iowa.
Mitchell's credits include A Prairie Home Companion, and repertory theatre in Texas and England.  He has played Harold Hill in The Music Man, and Woody Guthrie in Woody Guthrie's American Song.  Most recently, he wrote and produced Mr. Foster & Mr. Twain, in which Stephen Foster joins Mark Twain for an evening of story and song.
Chuck Mitchell's one-man show combines his seasoned skills as an actor, singer and guitarist with a selection of delightful material.  He sings cabaret songs by Brecht and Weil -- "Mack the Knife" and "The Bilbao Song" -- and whimsical songs by Flanders & Swann -- "The Gnu" and "Have Some Madeira, M'dear".  He roves the room singing "Freeborn Man" by Ewan McColl, or "Necessity" from Finian's Rainbow.  He weaves poetry by Robert Frost and T.S. Eliot into his shows.
He has been called a renaissance man, and thinks he is old enough to be one.